Ingram Gage Company is a Manufacturer of Precision Gages

Ingram Gage Company specializes in manufacturing standard and special thread ring and work plug gages over 0-80 up to 16-1/4" diameter including unified 60 degree threads, 60 degree stub, metric, acme, stub acme, NPT, NPSM, trapezoidal and buttress gages. Pre-plate gages are made to customer specifications.

All gages are manufactured to ANSI standards, and are traceable to NIST (National Institute of Standards and Technology).

Ingram also offers specialty grinding of molds, cores, & cavities.

We have a large inventory of standard thread plug and ring gages, plain plug and ring gages in addition to snap gages.


Call, fax, or email your quotation resquests gagesales@ingramgage.com

Distributor's inquiries welcomed.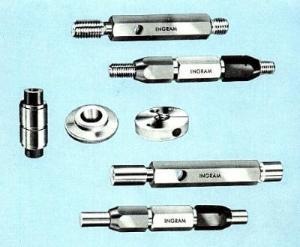 Ingram Gage Company
2320 Kishwaukee Avenue
Rockford, IL 61104

Ph: (815) 964-2256 Fx: (815) 964--2267